Missionary Disciples in Formation
News
On February 28, 2020, YOUNG MISSIO Germany was launched: a course for young Catholics who want to give witness to their faith and also passionately transmit it to others. In the first module, the 28 participants from all over Germany traveled to the town of Hochaltingen in southern Germany. For almost two years they will meet six more times at the St. Ulrich Retreat House to study intensively the YOUCAT, to exchange experiences, to listen to moving testimonies of faith and to learn methods to become committed disciples and missionaries. The main speakers of the course are Father Hans Buob and Bernhard Meuser, who with their profound knowledge laid the foundation for the study groups. Wolfgang Herold, father and missionary of the Augsburg house of prayer, shared his life story about what it means to follow God's call and to renounce the apparent certainties of life and to trust completely in God's providence.

Empowered by Baptism
In Evengelii Gaudium, Pope Francis emphasizes that every baptized person, regardless of his or her role in the Church and the level of education in their faith, is an active agent of evangelization. With the power received in baptism, every member of the People of God has become a missionary disciple (cf. Mt 28:19).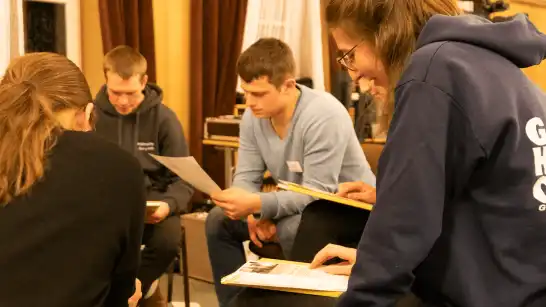 This strong statement was discussed in various ways by the participants during the weekend. On the one hand, through the conferences, but also through practical units in which the mystery of baptism and the mission associated with it were addressed. In the coming weeks the young people will deepen in their homes what they have learned and in some cases already apply it. The next meeting will focus on the words of the Psalm: "O God, you are my God; I seek you intensely. (Ps 63:2).
YOUCAT Digital
Discover our digital products, which will help you to grow in faith and become missionaries yourself.